REVIEWS: Skype/SIP VoiP WiFi Handset & USB to IrDA Adapter
Geeks.com were very kind to send us over for a review two cool products: the smallest IrDA-USB adapter on the planet, and the first WiFi handset that can do both SIP and Skype! Read on for more!
- Skype/SIP 802.11b VoiP WiFi Handset
This handset must be one of the most desirable gadgets in the VoIP market today. It is based on FiWin's SS28s model, which was announced a few months ago and made the rounds in the gadget web sites worldwide. Its main feature is the fact that it can do both SIP and Skype, however the niceties stopped right there. But let's take things from the beginning.
The package is a white box that included a 1000 mAh battery, the handset, a software CD that included the drivers and PDF manual of the SIP2Messenger for Skype, the AC adapter and a desktop cradle. The phone boots in about 10 seconds and shuts down in about 2. The handset proved to have a very good range regarding WiFi signals and it connected to our WEP-based network without problems. The phone also support WPA networks and you can store up to 6 hex keys -- in case you are jumping from wifi network to another all the time. It features a 96x65 b&w STN screen, which is enough for basic usage. There are some other niceties on the phone, like a contact list, ability to type characters, alarm support and more. All operations are carried through its two softkeys and the middle-button of the joystick. Other niceties include the ability to update the firmware either via WiFi (the phone can run an FTP server), or via a usb cable (not included). There is also a "ping" command to test your network, but this would result in crashing the phone each time we were trying it.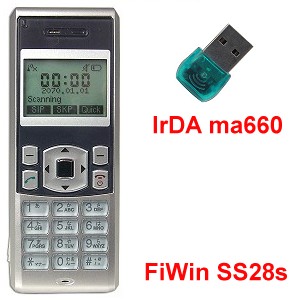 Now, onto the meat of the product: SIP (main operation) and Skype (secondary operation) support. We are very unhappy to say that SIP didn't work, no matter what combinations we tried. We configured correctly Ekiga, Gizmo and FreeWorldDialup, but none worked behind our NAT WiFi network (even if STUN support was configured properly and we punched holes in our firewall). Some suggested that we might need a local PBX server, but this would require a professional administrator to configure it correctly. Configuring Asterisk is not trivial. We tried to find information online and we even contacted FiWin to send us a manual (there is no manual in the box or CD regarding the SIP part of the phone), but we had no success getting the right PDF file. FiWin didn't answer our question regarding a PBX server either. Bottomline, SIP didn't work for us.
Now, the Skype support did work but not entirely as expected. The phone does not have out of the box support for the Skype protocol (which must be licensed). Instead, what FiWin did was to license a piece of software that runs on your Windows desktop and "catches" all Skype messages and forwards them to your WiFi phone. This means that if you are away from the vicinity of your desktop (e.g. on another wifi network), you can't use Skype. And that your desktop must be ON at all times. Lastly, you can't use Skype either if your desktop is a Mac or Linux.
Given all these shortcomings and without clear instructions from FiWin regarding how to get SIP working, we can not recommend this product, except if you are willing to configure an Asterisk server running on your local network (and even then it's not a given that it's going to function properly) or if you just require Skype.
UPDATE: FiWin was very kind to email us back and they cleared for us the problem. Apparently it was just a user interface and usability problem. *After* you have "enabled" DHCP, you have to also manually click the "APPLY" softkey for it. This is a usability discovery problem that it's being worked on for the next version of the firmware. After we "applied" DHCP after we had already "enabled" it, we were able to register to the Gizmo network and do phone calls! Thanks FiWin!
Yes, the smallest IrDA on the planet. This amazing little device not only works perfectly on Windows, but it incorporates FIR support, which can transfer files up to 45 KB/sec (normal IrDA transfer rate is about 8 KB/sec). The product comes with a CD that includes all the needed drivers on Windows, and it worked perfectly with both our PDA and phone. This little wonder would get a 10 out of 10 if it had support for Linux (it didn't work for us using the ma600 driver, this adapter is based on the ma660 chipset instead). But if your work is based on Windows, you will have absolutely no problems getting to work, and work reliably! This one is a must-buy!
Rating: 9/10