REVIEWS: Five Cool Gadgets
Geeks.com for yet one more time they have been very generous and send us over some of their best gadgets for a review. Read more for the reviews of an external burner, Bluetooth wireless stereo headphones, VoIP phone, 1 GB Sandisk microSD card and a laptop bag.
* IEEE1394 FireWire/USB2.0 DL 16x DVD±RW External Drive
In an era that most PCs and laptops come by default with internal DVD writers, external ones are still useful -- be it because of older machines laying around or because of drive-less small laptops. This 16x drive is not a non-name one. It is a Memorex drive which in my personal experience have been proved to be durable and solid performers.
The drive supports the following formats with writing speeds ranging from 4x to 16x and with reading speeds from 8x to 48x:
Write: DVD+R, DVD+R Double Layer, DVD+RW, DVD-R, DVD-RW, CD-R, CD-RW
Read: DVD+R, DVD+R Double Layer, DVD+RW, DVD-R, DVD-RW, CD-R, CD-RW, CD-ROM Mode 1,2, CD-DA, CD-I, CD-ROM XA, Mixed CD, CD Extra, CD-Text, Video CD, Photo CD, Multisession
The drive is both a firewire and a USB one, although with the plain box only a USB cable comes with it. The positive surprise comes with the Nero 6 suite that comes in the CD-ROM, a real value. The drive has a stand that let's you mount it vertically if wished. There is a volume scroller on the front of the device and a 3.5mm headphones input.
We burned an DVD ISO file, an audio CD, a DVD video disk and plain data DVD. All of our tests worked perfectly on Windows XP, Linux (we used the "Brasero" application) and after we applied a freely available patch that add compatibility for external non-Apple burners we were able to do the same on Mac OS X too.
Considering that last year we spent over $120 for a similar external 8x Sony burner, this 16x Memorex at $55 is an amazing value. It even has good looks! A must buy!
Rating: 10/10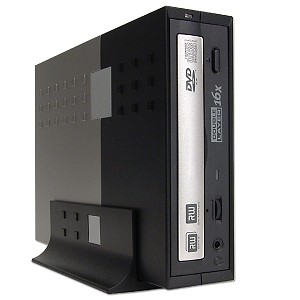 * Logitech Wireless Headphone for MP3 w/Bluetooth
Wow, this pair of stereo Bluetooth headphones is the most affordable in the market: $40. The headphones are class 2 Bluetooth 1.2 (up to 30 feet) and they are compatible with A2DP devices. Together with the actual headphones you will find a Bluetooth 3.5mm-to-A2DP adapter (works great with an iPod and other devices), an AC/DC adapter and a pair of extra ear cushions. There is no manual included in the plain package so you should know that in order to pair these headphones with your device (by pressing the power button for more than 5 seconds), you must enter the following generic Bluetooth pin code: 0000. The design of the headphones has buttons for volume +/- and next to them are two buttons, but these are not clickable. If Logitech was more clever they could have used these two extra buttons in order to work as FWD/PREV and Fast Forwards/Backwards. But they don't utilize this ability, even if when you click the Power button once the music pauses, which is an indication that the headphones might have AVRCP support. It would basically cost nothing to Logitech to enable the other two buttons. More over, there is no HSP/HFP profile support and as a consequence there is no microphone to enable usage as a handsfree. We also found the headphones a bit painful (violently pushing our ears inwards) after wearing them for over 1 hour. On the plus side we found that the sound quality was very good (better than most stereo Bluetooth headphones in the same market, only tremble could have been better) while battery life maxed out at over 7 hours which is pretty good compared to its competition. We tried the A2DP headphones with its audio gateway adapter (with and without its 3.5mm extension), a Samsung D900 phone and the Motorola ROKR-E2 Linux-based phone. The power adapter can charge both the audio gateway and the headphones at the same time, but there is no USB charging cable supplied. Still though, if you are in a tight budget, the price, the included audio gateway gadget, its battery life and sound quality of this unit won't disappoint you -- only the lack of some extended features might.
Rating: 8/10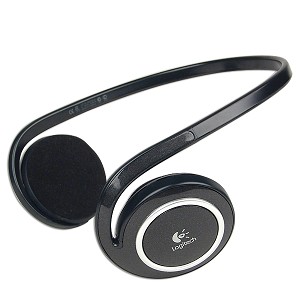 * AU-100 VoIP USB Phone (FREE after Rebate!)
Go now and get your free VoIP phone (after a $40 rebate). This little USB phone right here has yielded the best sound quality of all in our lab. Not only it worked great with WindowsXP with any VoIP application we threw at it, but it also worked great on Linux and Mac OS X. Under Windows you also get a utility that enables all the phone's buttons to be used with Skype, otherwise you can only use the device as voice-only (this is true for Linux and OSX). The speaker is of an amazing quality and if can work both as an external speaker and a low-volume speaker when you place it close to your ear. The unit supports echo cancellation, noise reduction and it full-duplex. The USB cable is pretty long so you can comfortably can move around in your chair while you are on a call. Build quality is good, even if the handset's exterior is made out of plastic. We can only wish for a protocol that all VoIP expose so handsets can use that protocol automatically and make all their buttons useful under all VoIP applications and under any operating system.
Rating: 9/10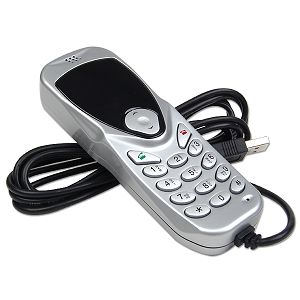 * SanDisk MicroSD/TransFlash Card 1GB w/SD Adapter
I am continually amazed about how small storage formats can get and yet deliver a considerable amount of actual storage. Enter the Sandisk 1GB microSD (aka transflash) card. It comes with a full SD adapter so you can use it with any flash reader. We tested the card with WindowsXP and our Samsung D900 phone and it worked perfectly with both. The card proved very useful on our phone as we were able to fit over 200 mp3 128 kbps songs and about 400 WMA 64kbps ones. We also fitted in the card three full featured MP4 movies that transformed our phone to a PMP. When it comes to speed, the card maxed out at about 6 MBs per second on transfer rate, which is a rather good performance. This microSD card might be your best deal, given the fact that the newly released 2 GB microSD cards are still very expensive and many devices just don't have the right firmware to support the 2 GB version.
Rating: 10/10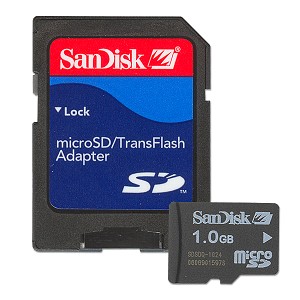 * Overland Computer Bag for Laptops up to 13.5" (Black)
Let's make one thing clear first. This bag was originally designed as a brief case and the ability to put a laptop in it was added later (according to the manufacturing label). While its main functionality is to be an office brief case though, it manages great as a laptop bag. You can fit 12" iBooks and Powerbooks in it and all 13" Macbooks in it, while any PC up to 13" screen (or 14" if the laptop has a thin bezel design) should easily fit too. The first thing that's going to strike you about this bag is the amount of pockets it has. We counted 13 pockets in it and 6 pen holders. Two of the pockets use a "fish-net" design, others have zippers, others use velcros, others have none. You can carry the bag either by using the long adjustable shoulder strap, the hand strap or even by placing it under your arm. The bag seems durable and solid even if it is not made by leather (black vinyl is used). Sure, the bag feels a bit plasticky, but boy, if you really need many pockets to fit all your workload in it, this is the bag you should get, especially for the price offered!
Rating: 9/10