REVIEWS: 3 iPod accessories, VoIP phone, 2 WiFi USB adapters
Geeks.com sent us in a few more gadgets to test out: two usb wifi sticks (we tested with Linux, OSX and Windows), a VoIP phone (again tested with all OSes), a case for the iPod Mini, an iPod cradle and an iPod dual connector. Read more for our experience with these gadgets.
Ralink RT73-based USB WiFi stick
This no-name USB wifi adapter uses the pretty well known in the wireless world Ralink chipset, rt73. The stick has a pretty nice feel and a small light when it's activated, but it is a bit long. Windows installation went fine using the included drivers and we were up and running in no time. The WiFi stick proved to have some very good reception as it could "see" networks that usually can't be seen with our 12" Powerbook. The Windows drivers proved stable too and we were able to connect to WPA and WEP networks without a problem. There is no support for Mac OS X. Regarding Linux support there are three ways you can enable support for this chipset: via ndiswrapper (which we couldn't make it work as we were not able to extract the needed firmware files), a native open source rt2x00 driver (which didn't work at all because of a bug in their code) and Ralink's own drivers. It was with this third way that we finally managed to get a connection after quite some tinkering. Unfortunately, the Ralink driver is not very stable either. Restarting the networking stack might hard lock the Linux kernel for example and require reset of the computer.
Rating: 7/10
What we liked about this USB stick is that it's considerably small. It also has a small light that blinks when the stick is enabled. Compared to the Ralink product above it also supports WPA2-PSK encryption which can be handy if you are paranoid about your network's security. Again, we got pretty good reception with this product too, and the drivers and utilities worked wonders under Windows. There is even Mac OS X support via a beta driver directly from ZyDas (the driver is a bit unstable under OSX but the basic functionality is there). On Linux the user can use either ndiswrapper or ZyDas own Linux driver. We correctly extracted the firmware files and successfully injected them into ndiswrapper (the application reported it is supported), but at the long last ndiswrapper refused to work with it and wouldn't lit up the device. The ZyDas native Linux driver worked much easier and much better. We were satisfied by the driver stability under Linux. The only problem this product has is that it gets extremely hot...
Rating: 9/10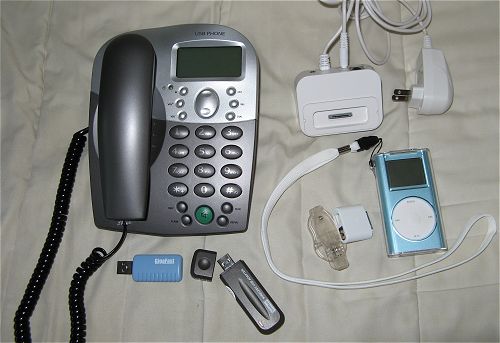 VoIP LCD Speaker Phone for Skype
This USB speakerphone is an impressive device. It looks like a regular desk phone and it has a bright and large blue LCD. It connects to the computer via a pretty long Type-B USB cable and it doesn't need external power. It also doesn't come with a manual or a driver CD, as the driver is inside the USB sound card that this phone includes (and so it installs automatically upon connection). The phone supports a slew of features: direct dialing, caller ID, handsfree & speakerphone, redial and more. However, before you can use all these features you must visit a web site and download a driver for Skype. Without it, you can only use the phone in its most basic functionality (speaking through it and listening through it, not even pickup or hangup will be supported though). The driver, called skype-mate, installs easily, but the point is that there is nothing written in the box about it. The user has to literally figure it out for himself that he must find and install additional drivers, even if the box claims that all drivers are included in the USB device. At the manufacturer's web site we also found drivers for other VoIP clients, like MSN, Net2Phone, SJPhone and others, but there was no support for Vonage or the GizmoProject, the second most popular VoIP service in the world today. We also tried the device with Linux and Mac OS X as well: on Linux the device is fully supported as an audio device, and there is a Fedora special Yealink driver to support the device's extra functions under Skype only. On Mac OS X only the audio-out part of the phone would work, its microphone functionality was "seen" by the driver but it was not working (that's an OSX driver bug that we have seen it on other USB sound devices as well). There is a skype-mate driver available for OSX as well which thankfully initializes the microphone correctly and so the USB phone can be used in its full capacity. Again, the extra functionality is only available for Skype on OSX.
Rating: 8/10
The iPod Mini might have been replaced by the iPod Nano, but it still has many fans that are willing to buy its hardware at twice the cost it was originally sold at! Hence, accessories for it are still hot in the market. This crystal-clear case is a bit different than the usual silicon-based cases commonly sold. There are cutouts around the ports and controls of the iPod Mini and it doesn't "hide" the design of the iPod. In fact, it makes it look even better. I have over 5 iPod Mini cases but this is my favorite. It is shock resistant and it's strong. It comes with a swivel belt clip and a white neckstrap. The only problem with this design is that from the belt clip's base is using glue to stick to the case. This means that if you decide to use the belt clip, you can never remove it again. So you will have to decide before you buy this beautiful case how you want it to function: around your belt, or around your neck?
Rating: 9/10
iPod Dock Connector to USB and FireWire Port Adapter
This small, very portable white adapter includes both USB and Firewire ports and connects to any dock-connecting iPod to charge it or to mount it to the desktop! You might ask why would someone need this from the moment that the iPod already comes with such cables? There are a few usage cases that the buyer should consider:

1. The newer iPods don't come with Firewire cables. This gadget allows you to choose between the two ports.

2. You want to use a longer USB or firewire cable. This adapter allows you to use your own cables.

3. You are travelling away and you are not sure if your friend has a firewire-capable computer or not.

4. Your USB hub is full and so you would like to use the Firewire port instead.

If you fall into one of these user cases, this is a slam dunk purchase. Just note that you can't use both ports at the same time. Only one must be connected at each time.
Rating: 9/10
Universal USB Cradle for iPods
This small and good-looking docking cradle for your iPod allows you to charge & synchronize your iPod via USB cable. It also has line-out jack for connection audio systems or headphones and also an S-video out, perfect for the iPod Video. The gadget's USB cable is attached and can not be removed, while the AC adapter can. You can easily transport the dock in your laptop bag and have your iPod sitting on a dock and get connected to your laptop via the USB port without the need for an AC adapter. The dock comes with five different inserts to fit all iPods ever released: from the original, to Nano, Photo, Mini and iPod Video. I even found convenient using an iPod Photo insert (which is bigger than what I need for my iPod Mini) because this way it doesn't require me to remove the Crystal Clear case reviewed above in order to charge or synchronize the iPod. It all fits! I guess the only problem on this model is the lack of a Firewire port and a small light to indicate if the iPod is charged (green), mounted (blue) or currently charging (red).
Rating: 9/10