REVIEW: VoIP, Flash Memory, USB/Firewire PCMCIA, PC Headset
Geeks.com were very kind to supply us with a number of their products for the purposes of this review. We give a quick look to a VoIP USB headset, a PC headset, two flash memory cards and a USB/Firewire PCMCIA combo card.
- 2-Port USB 2.0 and 2-Port FireWire CardBus Adapter

(The combo card's review was written by Thom Holwerda)
The Combo cardbus card is a PCMCIA card which extends your laptop's connectivity by giving it four extra ports; two USB2.0 ports, and two FireWire 400 ports (where one of the two FireWire ports is a mini port). The device look just like any other PCMCIA card, with the only difference being that the part that sticks out of the PCMCIA slot is a little bulky, which can be annoying at times.
The ports themselves are very rigid; with that I mean that they grasp a good hold of the cables you plug into it, which prevents accidental disconnections. It comes with a driver CD with drivers on it for Windows 9x-XP, but on Windows XP (in my case Media Center Edition), the driver CD was not needed as Windows recognized the card and its ports out-of-the-box.
The only real complaint is that when the card is inserted, it seems to affect my... speakers. I'm not kidding; when the card is plugged in, you can hear slight cracks and taps coming out of the internal speakers on my Dell Inspiron 6000 notebook. I'm not sure whether this is caused by the card, or by the laptop itself.
Overall, a very easy way to extend your notebook, and for the price, a real bargain. And it works with Linux too!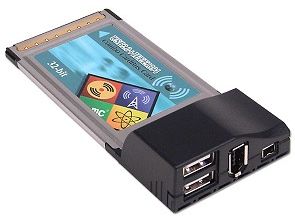 - VoIP USB Backlit LCD Graphics Phone w/Speakerphone
VoIP is very fashionable lately, but it is also useful: it helps thousands of people (if not millions), to communicate cheaper. Many new products have sparkled out in the market making our VoIP experience better. This USB-powered VoIP phone (selling at just $22) is no exception. The handset is built around a 16bit sound card and it supports the Skype protocol, it has a nice blue LCD backlit four row display (only under Windows), an external 2.5mm headset jack, a built-in ringer with multiple ringtones, incoming caller ID display, adjustable volume during a call, redial/dial back function, a built-in speakerphone, Skypeout balance display and it supports various Skype functions so you don't have to operate Skype via a mouse. Finally, there is even an inquiry of missed calls, received calls, dialed calls and calling time. All that under Windows XP only though, where the device is installing its driver automatically upon connection.
On Linux and Mac OS X, both the speaker and microphone worked flawlessly with Skype, Gizmo and other SIP VoIP applications we tried it with, but none of the extra buttons did anything when pressed. For example, if you are on Skype on either OSX or Linux and you press the "hung up" button, nothing will happen. I don't think this is a huge inconvenience though, as 99% of the time you would use this handset to speak through it rather than using its extra features. It's already a big deal that its basic functionality is present without extra work on both of these alternative operating systems.
The device is very comfortable to hold in your hand (it resembles a small cellphone) and the USB cable is very long, making it easier to move around your desk freely while chatting away.
- Multimedia Earphone with Microphone
However, if you somehow prefer to use a normal headset for your VoIP/IM conferences/chats via your PC, you might as well look at this extremely affordable product at just $5. The headset looks like a Bluetooth headset, but instead it is using a cable that connects to your line-out and microphone-in jacks of your PC. The product is of course not the best choice for music or gaming, but it is perfect for audio transactions and even audio recording. The device can only fit the right ear, there is no support for the left one. The audio coming out of the speaker and the voice that sends out is very clean and crisp. The only problem it has is that the in-ear part is a bit... thick and might not fit on all users' ears.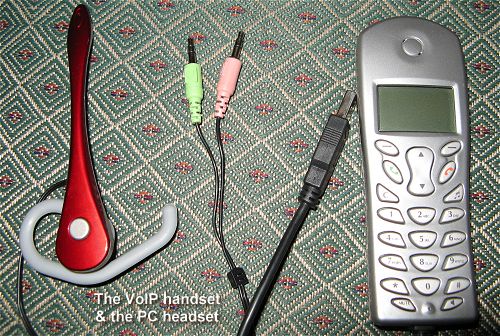 - Flash memory cards
We were able to try out two high-capacity flash memory cards, one being a Sandisk Transflash (microSD) and one being a full SD from Kingston.
It is amazing how small the Sandisk Transflash card is, about 1/5 the size of a regular SD. The 256MB card came with an SD adapter so users can use their regular card reader to read/write in it. We found the card pretty fast -- considering its small size and the fewer electronics it carries. It managed about 5 MBs per second "read" time in our tests and it worked perfectly with our Motorola Linux phone we tried it with.
The 512 MB Kingston SD card is a regular SD which features a built-in write protect switch and it's low-power. We tried it on a number of products, including two PDAs and a digital camera -- it proved a very compatible unit and very robust too. On our tests the card managed 6.5 MBs/sec of "read" times (on our PocketPC), which places the product in the middle of the pack performance-wise.