REVIEW: QTek 9100 PDA Phone
The QTek 9100 Windows Mobile 5 PDA phone is based on the HTC Wizard platform, a platform that has also brought us the O2 XDA mini S, T-Mobile MDA Vario and i-mate K-JAM (and so this review applies to them too). We downloaded the latest ROM for the QTek 9100 (released around March 22) with support for Push Email, and we manually added A2DP/AVRCP support. Read more for the full review.
Description: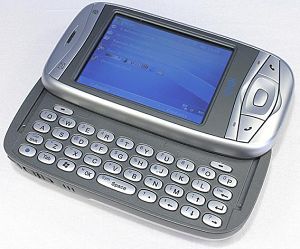 The PDA-Phone is a quadband GSM phone with EDGE support. It features a 1.3 MP camera with a flashlight, 128 MB storage (43 MB free), 64 MB RAM (20-22 MB free), Bluetooth 1.2, WiFi 802.11b, IrDA, 195 Mhz TI OMAP CPU, 2.8" 65k touchscreen LCD, miniSD slot and a built-in qwerty keyboard that slides out from the left side. The device comes with a good-sized stylus and a 1250 mAh battery. The QTek 9100 is selling for about $600 USD on retail channels.
On the front of the phone you will find two softkeys, answer and hangup buttons, a volume up/down slider, an antenna button (loads an application that lets you turn on and off WiFi, GSM, Bluetooth and change ringing profiles), a 2.5mm audio jack, a slave mini-usb charging/activesync port, a camera button (loads the camera application, does not snap pictures) and a voice dial/recording button. Above the screen there are two more buttons, one loads Outlook and the other one loads Internet Explorer, but I don't know anyone who owns a Wizard and likes these two buttons being above the screen because they require two hand-usage (there was space below the screen to add these buttons).
Inside the box of the QTek 9100 we found a spare stylus, a case (which unfortunately blocks the audio/handsfree jack), handsfree headphones, AC adapter, mini-USB synchronisation cable, user manual and quick-start guide and two CD-ROMS with bonus applications.
Review:
The Wizard nornally runs Windows Mobile 5, but we used the latest available firmware (v5.1) that adds many bug fixes and Push Email support. On top of that, we also added the... neglected by many OEMs, A2DP/AVRCP support for use with Bluetooth stereo headphones. The visible changes of Windows Mobile 5 over Win2003SE are not that many (they are mostly under the hood), but they do stand out: there are now softkeys to open menus that minimize the need for a stylus usage, Outlook has added support for Hotmail, MMS and SMS, IE can go full screen and use the directional D-Pad to move between links (again, minimizing the need for a stylus), the Pictures application has added support for more image formats, Windows Media Player 10 supports 3GPP and MP4 h.263, the Office suite now has PowerPoint support and much more.
On top of the regular software HTC/QTek and Microsoft had to write extra software to make this PDA... a better phone. The "phone.exe" application is pretty good serving as a virtual numeric keypad to make calls. While on a call you can turn on the speakerphone. On the Settings you can find the "Phone Settings" panel which will allow you to change ringtones and profiles, settings for call barring or call forwarding and more.
The phone uses Microsoft's Bluetooth stack which is at best, incomplete. It only supports a few Bluetooth profiles and the ones it supports, are buggy. For example, when using A2DP/AVRCP headphones with the latest ROM, you can't also use them as handsfree at the same time. As for trying to send files via Obex from another BT device to the Qtek, it works from many of these Bluetooth devices, but it won't accept files from my Dell PC which runs the Windcomm stack via an Anycom USB Bluetooth dongle (it accepts files from my Mac and my Linux phone though). Lastly, the user interface to send files/media via Bluetooth is really counter intuitive, as it does not make distinction between IrDA and Bluetooth, neither the user interface for "Beam" uses the already "paired devices", but instead it tries to find new, discoverable BT devices to send files to.
WiFi works pretty well, and GPRS worked well too. However, even if the device is an EDGE device, I haven't seen changing its "G" icon to an "E", no matter the location I was in (my house even has UMTS/3G support). Apparently a small registry key change is required to force the device to differentiate between EDGE and plain GPRS. Additionally, I only get 1-3 bars for Cingular in my place, while my Linux phones get 3-5 bars. Reception could have been better.
The camera takes pretty good pictures (for a phone camera that is). There is a 2x zoom and the UI is pretty easy to use. Thankfully, the presense of the flashlight makes the snapping of pictures on low light pretty good. The 2.8" screen is very bright and of very good quality, making the viewing of pictures and videos pleasurable.
Regarding the built-in keyboard: it is a great feature, maybe the best feature on the whole device. The keyboard is large enough to support fast typing and the buttons feel responsive and give good indication that they have been pressed. Only problem is the actual backlight of the keyboard, which is not very bright and so it makes the buttons not well-viewable during the day (when backlight is ON).
The biggest problem of the phone is its CPU. It's a very slow CPU. Some people online will argue that TI's dual-CPU at 195 Mhz is faster than some of Intel's XScale or Samsung's ARM CPUs at higher clock speeds, but that's just hogwosh. The 195 Mhz TI CPU is pretty much as fast as an Intel 208 Mhz in my opinion, and it's waaaay slower than the Intel 400 Mhz PXA-255 model CPU (which is a slow 400 Mhz 3-year old CPU with a slow memory bus). You can see this slowness mostly on multimedia usage: QVGA WMV video is unplayable (QVGA DivX is ok and Mpeg-4/h.264 320x180-widescreen is ok too). When streaming mp3 via WiFi and then directly encoding to A2DP and send to Bluetooth stereo headphones it brings the device to its knees. To be fair, "normal" phone/PDA usage is fast enough, it's just that advanced multimedia operations are slow.
The included handsfree feels a bit "cheap", but it does the job and it has a good sound quality. One weird thing is though, when I plugged in the also 2.5mm handsfree from my Motorola Linux phone it didn't work correctly. The sound coming out of it was very weird, almost distorted (like it was fighting to be stereo but couldn't quite deliver that).
The other problem I have with the device is the fact that there is no "Start Menu" or "Close app" soft-buttons. The "hang up" button only minimizes the current open application and given the fact that there is very little free program memory (about 22 MBs after a soft-reset), this is a bit of a problem. Finally, there is no hardware "hold" button. The "soft lock" functionality embedded on WM5 is not a good enough option if you want to listen to mp3 music and have the phone buttons all locked and the LCD off.
Regarding battery life, it is pretty good. It manages over 15 hours of mp3 playback, 2.5 hours of WiFi usage, 3 hours of GSM talktime.
Conclusion:
Overall, this is a great smartphone. It has its little problems, especially in the multimedia speed department, but overall, it does the job done and its great keyboard transforms this phone to a handtop. Great for mobile browsing, mobile office and communications. If its price was a bit lower, it would have been a must-buy. Right now, it is still a good buy, but only for those who require such a device.
Overall: 8/10