REVIEW: Kodak EasyShare Z1275 12MP Camera
Geeks.com sent us in the Kodak EasyShare Z1275 12MP HD 5x optical zoom digital camera for a review. This is the first Kodak camera which employs 720p video recording. We tested the camera and here is what we think about it.
The Z1275 is a 12MP camera that captures 4000x3000 JPEG images and it features a 35 - 175 mm, 4/2.8 - 5.1 Schneider-Kreuznach Variogon lens. It has a 5x optical zoom and an electronic image stabilizer. The LCD screen is 2.5" and there is no viewfinder. The device came with a manual, a software CD, a wrist strap, an EasyShare dock insert for Kodak printers, a USB B to mini B cable and a 2 AA batteries.
The camera feels very nice on the hand, and it is in fact smaller than the 8 MP Kodak camera we reviewed a few months back. For more information on the technical side and available menu options of the camera, just read its full specifications here. We will only mention the many shooting modes available, the good exposure control and focal features, several color modes, and the ability to shoot from 1.2 MP all the way to 12 MP. The camera also has a 16:9 mode for shooting pictures.




The Z1275 is very easy to figure out: it has a dial button on the top where it lets the user choose between manual modes, automatic, scene modes, ISO selection mode, "favorites", and video. On the left side of that dial button you will find the on/off button, flash on/off and timer buttons. Next to Z1275's screen you will find the zoom buttons, delete, display info on/off, 5-way joystick, menu, review and "share" button. The camera comes with 64MBs of internal memory, but it's best you get a 1 GB SD card so you can justify some HD video shooting too.
We were very happy with the usability presented to us by the various menus. We had no trouble figuring out what is what, even in manual mode. The only thing we believe that's missing from the main menu system is manual white balance support. Another problem is that when on "review" mode, it takes a while to read the 12 MP pictures (which range from 1 MB or 2.5 MBs in size). But this is nothing compared to what's really wrong with the camera: zoom focus slowness. Each time we will zoom in or out, the focus will be adjusted, but the camera does this so quite slowly and it never really reaches a very sharp picture when zoomed in at 5x optical zoom (check our two zoomed-in pics, they are a bit out of focus). This is not a huge deal with pictures, especially if you use a tripod (we did so too), but it is a big deal with video. Each time we will zoom in and out, the zoom autofocus will take over a second to focus correctly, and for that second your video will just look cheap and amateurish.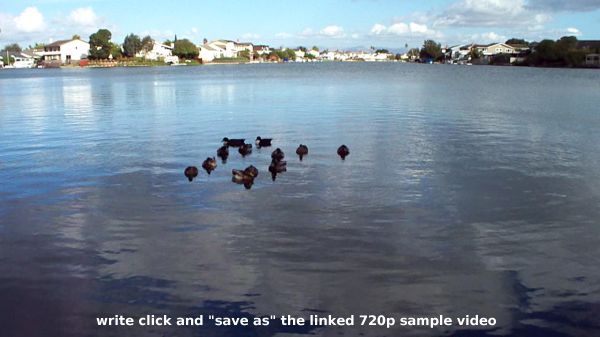 Speaking about video, it's great that Kodak included 720p HD video, although it could have been a bit better. They could have added a better microphone, and record at 6 mbps instead of 10 mbps. The plus side is that they actually use MPEG-4 instead of MJPEG that most other cameras do, and so even at 10mbps, it will save a lot more space on your SD card than with other cameras. You can fit 15 minutes of HD video on a 1 GB SD card. Video quality is so-so and Quicktime has trouble playing back the files (especially when zooming in/out is involved), while VLC can playback them fine. The files are compatible with the Sony Vegas video editor, but you will have to adjust the frame rate in the project settings to 30.xx fps manually (each captured clip has slightly different frame rate) to get Vegas to playback the video without artifacts. One of the mysteries of this market is why digicams and digi-recorders are recording in this fluctuating 30 fps mode and not to the more standard 29.97 of NTSC.

720p scaled down to 480x270
Nevertheless, this is a nice enough camera which you can boast for its 12 MP ability and HD video recording. But there is a possibility that its slow autofocus might annoy you.
Rating: 7/10