REVIEW: Kodak EasyShare V550 5MP Digital Camera
Kodak introduced their front-runner consumer point-and-shoot camera, the V550, a few months ago amidst heavy TV advertising, focusing mostly on its video capturing abilities. Geeks.com sent us the camera for a review, and here is what we found out while testing it.
Special thanks to Jean-Baptiste Queru for his help with this review, analysis and pictures.
The package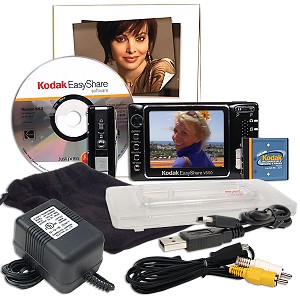 The box includes the camera itself, a (thin) carrying case, wrist strap, the docking station, the photo frame dock for Kodak's printers, a USB 2.0 cable, an A/V cable for usage with a TV or other standard PAL/NTSC devices, a rechargeable battery and the power A/C adapter.
Description
The V550 is a very compact 5 mega-pixel camera, making it an excellent everyday accessory. It features a massive 2.5" beautiful screen (as big as our Linux PDA phone) but it retains a small form factor. The screen is so big in comparison to the camera body that we kept touching it by mistake and so it gets full of finger prints in no time. A simple... t-shirt wipe doesn't clean it up! It requires special clean up agents, which of course people don't want to carry with them on trips.
There is also a viewfinder, although the viewfinder doesn't show as much of the landscape that it will finally get captured. Below the viewfinder you will find the traditional Kodak button layout: Delete, Menu, Review and Share. On the right side of the screen you have the zoom rocker button and the 5-way D-pad that let's you navigate through the menus.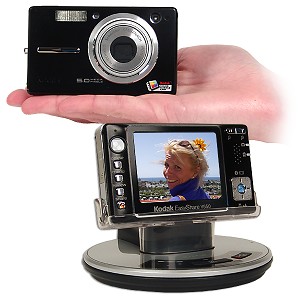 On the side you will find the wrist wrap hole (which proved quite a challenge), the A/V and USB output and a "Favorites" button. Using Kodak's software (newer 5.1 version available via Kodak's web site, recommended over the version that comes with the CD) you can mark some pictures as your "favorites" and pretty much create a "playlist" with only these pictures in your camera. It makes it an easy way to show your best pictures to your family and friends.
On the top of the camera we find four buttons that are designed to walk through to better picture-taking the amateur user. The default button is the "Auto" mode which is used for generic picture-taking, the portrait button, the Scene mode which is for capturing objects closer than 70cm and the Video button that completely switches the camera to its video mode. Next to that there is the (small) on/off button, the flash on/off button and lastly the bigger, picture-snapping button.
On the left side of the camera one can find the DC-in port, while at the bottom there is the tripod hold, the docking station/Share port, the battery compartment and the SD card slot. On the front of the camera there is a F/2.8-4.8 zoom lens and a flash.
Features
The V550 comes with 32 MBs of internal memory and it worked without issues with our Kingston 128 MB SD card. You can shoot 17 pictures using the internal memory at maximum resolution, 2576x1932. The camera's settings allow you to capture images no bigger than 1552x1164 (good for 43 frames), but unfortunately the camera doesn't let you control the jpeg quality and the post-processing the images are getting subjected to by Kodak's (aggressive) algorithm.
The camera supports ISO 100, ISO 800, ISO 400, ISO 200, ISO 80 and ISO auto (80-160), 4x digital zoom, and it even comes with an electronic stabilizer. The user can use white balance presets (Fluorescent, tungsten light, daylight, shade) or use the auto mode. The flash has several modes too: fill-in mode, auto mode, flash OFF mode, red-eye reduction.
Going through the settings of the camera there are several modes: landscape, portrait mode, text, close-up, museum, party/indoor, back light, night portrait, self-portrait, children, fireworks, night landscape, flower, panning, sports mode, sunset, candle, beach, snow and of course, the auto mode.
The camera can be programmed with a self timer up to 10 seconds, supports plain audio recording, direct print via Kodak's photo printer line, auto power save, date/time stamp, DPOF support, digital image rotation, camera orientation detection, PictBridge support and in-camera red-eye removal.
Picture Quality (the juice)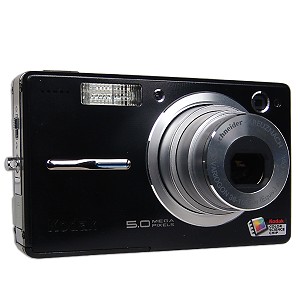 Image quality is on the upper end of 5MP cameras, pictures are sharp but distortion at short distances is noticeable. Chromatic aberrations and purple fringing are very well controlled thanks to a modest 3x zoom design with no wide angle to speak of. Lens flare is very well controlled.
Pictures of the V550 can be printed to 8x10 or letter size without any problem. Typical of Kodak cameras in-camera processing is heavy making pictures ideal for direct printing but less suitable for advanced post-processing. This is a point-and-shoot-and-print camera which will satisfy snap-shooters but might leave more advanced photographers disappointed. The camera doesn't have any manual exposure controls which makes it hard to use in high contrast situations especially since the range of exposure compensation is very limited (-2 to +2 stops). Also, it is very clear that in-camera noise reduction creates a water color effect such that details of fine textures entirely disappear.
Auto-exposure typically did a fine job but in extreme situations left part of the frame over-exposed.
The size of the camera obviously limits the capabilities of the flash. The flash bulb is very small and very close to the lens making it somewhat unsuitable as a primary source of light but its power is too low to make it useful as a secondary light source.
Capabilities for close ups are typical of small sensor digital cameras. In macro mode the camera has no problem focusing within half a foot. At close distances the built-in flash provides an efficient fill flash.
As its typical for all small lens digital cameras it is almost impossible to obtain any kind of satisfying background blur. Even at macro distances the background remains very recognizable.
Picture Samples (shot at Stanford, Palo Alto, CA)
Video analysis
The V550 supports MPEG-4 recording in the .mov container format. Video quality is stunning (9.3 MB VGA sample), there is no doubt about that. Sound quality recording via the built-in microphone should have been better though. The large camera screen really makes video playback really enjoyable (the screen is same size as the iPod Video's). The V550 can record in either VGA or QVGA in 30 fps. But in order to succeed this in its limited CPU and battery power, it means that it has to cut corners in something else: compression. You can barely fit 38 seconds of VGA video in the built-in 32 MB memory, and even on a 512 MB SD card you won't be able to get more than a few minutes anyway. I wish there was a setting to tell the camera to only capture 15 frames instead of 30 and use the rest of the CPU power to do more compression and save storage space.
Conclusion
This is a camera that it will mostly appeal to the female population. It's small and good-looking and fits on any purse. Men with bigger thumbs than average would have a hard time keeping the camera steady during picture-taking. And we shouldn't forget the cradle that it comes with that makes it so easy to connect the camera to the computer, reviewing and sharing in a click of a button. These are great features for non-techies or most women.
Battery life is below average and it runs out after about 100 pictures. A second battery and a proper harder case are recommended accessory buys for this camera model.
If you already own a Kodak photo-printer, then this camera is possibly a great buy for you. If not, you will still get the ease-of-use and abilities of the camera but you would have wished for better jpeg quality control.
Overall Rating: 8/10