REVIEW: i-PHONO PLUS Bluetooth Stereo Headphone (BT420Rx-C)
Bluetake was very generous sending us their latest model, the i-PHONO PLUS Bluetooth stereo headphones, for this review. Dig in for more info and conclusion!
This combo kit includes a Bluetooth Audio Gateway in addition to the A2DP/AVRCP/HSP/HFP headphones. On the box we also found the A/C plug with the dual charging facility (able to charge both the headphones and the Audio Gateway at the same time), a spare pair of ear cushions and the manual both in printed format and in the mini CD. Unfortunately, the combo kit does not include the USB charging cable which comes as a standard on most competitor's products.
Physically, the i-Phono Plus headphones are a bit big, but this is understandable as they carry a 500 mAh battery in them. The problem is that they are uncomfortable to wear. They don't play well if the user also wears glasses and we found it difficult to fit them steadily on our ears. Also, if you are sitting on a car, airplane or bus and you try to relax and put your head back, the plastic neckband gets in the way and unfits the headphones from your ears. I have tested quite a few neckbands in my time, and this model seems to be one of the worst in terms of usability. Also, these headphones seem to not have been tested with people with longer hair, because this specific neckband makes the hair stick out on the back. On the plus side though, the headphones have a condensed mode so you can carry them around easily.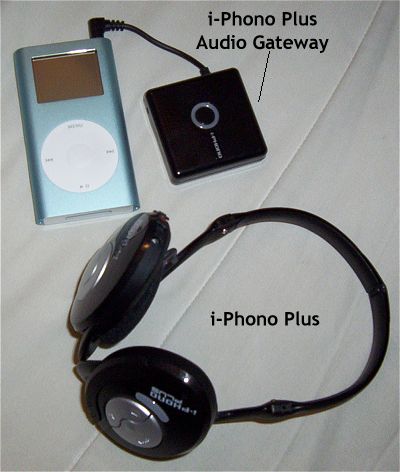 The headphones feature an on/off slider and a small light to indicate if the device is on or off. On the right headphone you will find the universal Call button, and Vol +/- buttons and the boom microphone. Pressing longer on the volume buttons will make the music player to skip to the next/previous song (as long as the player supports AVRCP that is). The multi-button is able to call/hang up when in HFP/HSP mode, or pause/play when in AVRCP mode. The boom microphone is retractable so it is not on the way when you are not in phone mode. We found the performance and quality of the microphone pretty good.
Regarding compatibility we found this headset excellent. It was able to be paired without any problems with its accompanied dongle audio gateway, our A2DP-capable phone, our PocketPC and our Windows XP PC (tested with music and Skype). The headset was able to pick up a phone call while listening to music from an iPod, and then return to the iPod connection automatically after we hunged up. Also, the audio quality was one of the best we have ever encountered on a stereo Bluetooth headset. It really makes music-listening truly pleasurable.
Reception was as good as we expected it to be, about 8 meters of connection in open space and about 4 meters in between wooden walls. I am very happy to see this Bluetake model having the expected reception performance because their previous model proved problematic in our review. Regarding battery life, we found this unit only marginally better than their other model, edging about 6:30 hours of continuous playback, which is a far cry from Plantronics Pulsar's 11+ hours. With its huge 500 mAh 3.7V battery the i-Phono Plus carries, it should have been able to do over 15 hours!
Pros:

- Excellent sound quality

- Exceptional compatibility

- Good reception

Cons:

- Mediocre battery life

- Headset is uncomfortable

- No USB charging cable on all retail boxes
Overall: 7.5/10