REVIEW: Gadgets Galore: HDMI switcher, Audio Adapters, Bluetooth headset, 2 GB microSD, USB Ethernet
Geeks.com were again once more very kind to send us over some of their best tech gadgets to review. Read on for more!
* 4-Port HDMI Switch with Remote Control
This is the highlight product of our gadget review, a 4-way HDMI switcher. It has 4 HDMI inputs and 1 output. This product is a life saver if you have multiple HDMI devices in your home, but your TV only features 1 or 2 HDMI ports. For example, using this switcher, you can connect your Blu-Ray, HD-DVD player, PS3, XBox360 and newer model cable or satellite boxes to your TV without having to fiddle each time on the back of your TV with the ports. The HD4101 is able to throughput consistently 480i, 720i, 720p, 1080i and 1080p resolutions without any problems. It comes with a power adapter and an easy to use remote control (or you can use its front buttons). The device is compliant to HDMI 1.2, HDCP 1.1 and DVI 1.0, but not the latest protocol, the HDMI 1.3. However, not to worry, because HDMI is backwards compatible and so even in 5 years time this 4-port switch will still be able to serve you without any major loss of quality. A small problem is that the power adapter's port is located at the front of the device, which will make your living room look a bit too busy with cables, but that's not really a big deal. The price is very generous at just $80. If you think that's expensive, you better look at some new switchers announced just last week, where an 8-port HDMI switch has an MSRP at $800. The HD4101 is an HDMI switcher at a logical price folks.
Rating: 9/10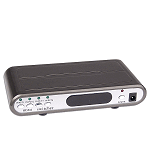 * Cyber-Blue Bluetooth Wireless Headset (Graphite)
This Cyber-Blue BH-05 Bluetooth headset enables hands-free operation of your Bluetooth-enabled cellphone. It is compliant with Bluetooth 1.2 and it can operate up to a distance of 10 meters (8 meters between walls). The headset has a very simple and graceful design and it's very easy to operate. It features two buttons for volume (up and down) and a multi-function button for power on/off/pairing/accept/hang-up. It can be worn from either the right or left ear and while it does not have an in-ear speaker it still sits well around the ear and doesn't fall off easily. Having said that, this particular model is not suitable to be worn while jogging or doing aerobics. The main feature of this product is simplicity: you start the pairing procedure by press-and-keeping the power button, and you press that same button for accept/hang-up. There are no special functions like call reject, or voice calling -- this headset was designed with simplicty in mind. Because of the confuse-free operation it features, it makes it a good gift for older people. Regarding battery life we maxed out its usage with 5.3 hours of talk, which is not too bad (standby maxes out at an estimated 200 hours). We had no problem pairing and operating this headset with our Windows & Linux smartphones and some Nokia models, but we couldn't make it connect to the Nokia N95 (but this is Nokia's new S60 v3.1 bug, not the headset's). If you are still not convinced about buying this headset, consider the fact that Motorola had re-branded this piece and resells it as "H500". The only difference is, that if you buy Geeks.com's version, you save over 50 bucks! And not only that, but this headset uses a normal mini-USB connector for recharging so you don't have to take with you its power adapter when travelling if you already take a laptop with you! Just plug a normal USB cable on your laptop and off you go! As for sound quality, it is top notch.
Rating: 8/10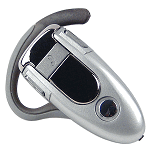 * SanDisk 2GB MicroSD/TransFlash Card w/SD Adapter
We are continually getting impressed as to how much data Sandisk can squeeze into these tiny flash cards. This is a 2 GB microSD card (aka "transflash") with an optional lock mechanism. We tested the card with our Nokia N95, our Motorola A780 and our Samsung phones. The card worked perfectly with each one of these, and it averaged a write speed of 3.5 MB/sec -- which is pretty good. In a 2 GB flash card you can fit about nine 2-hour movies encoded in the h.264 format, and about 8 of them when recorded in the Mpeg4-SP format. It can definitely keep you busy for a while if you are planning to travel away and the flight times are long.
Rating: 10/10
* USB MiniB to 3.5mm Stereo w/Inline Talk Button for Motorola
In their recent cellphone models Motorola went from the 2.5mm audio jack ports to mini-USB. While this saves money for Motorola because they have to deal with one less connector, it creates a new headache to users who are trying to use their normal high-quality headphones with their cellphones. Most high quality headphones have a 3.5mm jack, and so to use these you need an adapter. This adapter offered by Geeks.com has a great build quality and it even has a talk/button and microphone on board. We tried it with our professional grade Sony headphones and sound quality transfered by the adapter from our Motorola RAZR phone was exceptional. This is a hassle-free, affordable solution. If you have one of these Motorola phones with miniUSB ports, get one of these adapters while they're hot!
Rating: 10/10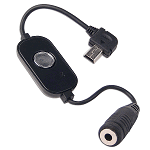 * 9-Pin Nokia to 3.5mm Stereo w/Inline Talk Button
This product is similar to the one above, but made for Nokia phones. We tried it with our Nokia N80, E61 and 6288 and it worked perfectly with all of these phone models. Microphone quality was very good, stereo audio quality was again exceptional and the product is small enough to be easily tacked away without a problem when not needed. This is a must-have accessory for Nokia phones. And if you are a lady with a handbag, you can connect a Bluetooth audio gateway at the end of your 3.5mm adapter and then listen music wirelessly from your phone. How cool is that for less than $5?
Rating: 10/10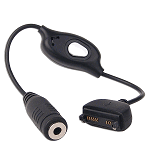 * USB to RJ-45 Ethernet Adapter
While most new laptops and computers come with an ethernet port, many older laptops don't. This is where a USB-based ethernet adapter can be a life saver if WiFi is not available, or the reliability, security and speed of an ethernet network is needed. This 10-dollar ethernet adapter is 10BaseT and IEEE 802.3u (100BaseTX) compliant with a half/full duplex 10/100 Mbps operation. In our tests, we were able to transfer a 300 MB file from one computer to the other using this adapter on the receiving end, with a speed of about 6 MBs/sec. We found the adapter to work perfectly with Windows XP and Linux (out of the box), but it was not usable at all under Mac OS X 10.4.x.
Rating: 9/10