REVIEW: DPF-8800 Digital Photo Frame
Geeks.com was very kind to send us for a review one of these beauties that are very much in fashion lately: the DPF-8800 Digital Photo Frame. Read more for our review and two Mpeg4 videos showcasing the device!
Note: All pictures shown in this article are copyright Jean-Baptiste Queru.
The device arrives in a nice gift box and it comes along with a manual, its remote control, an A/V cable (used for NTSC/PAL TV-out), a US power cord and a generic power adapter similar to the ones found on laptops. The DPF-8800 is very well packaged and it was very safely transported to us.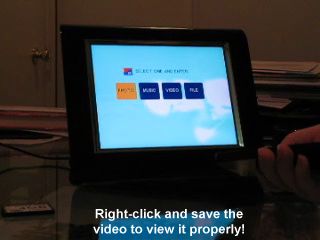 The DPF-8800 comes with an 8" SVGA 800x600 TFT screen (350cd/m2 brightness, 400:1 contrast), which is a good size to view photos even when sitting with guests on a couch away it. There are handles on the back of the frame to either hang it on the wall, or use its stand to sit on a smooth surface. There are buttons on the right side that give you access to the LCD menu. The device comes with brightness and contrast at 50%, so if you feel that you would like to adjust it and make it brighter, you can.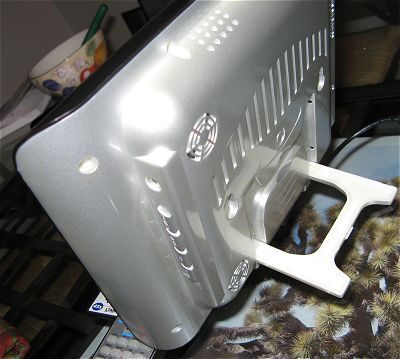 Please note that the player's controls are working exclusively with the remote control (which doesn't always seem to carry through a command and feel responsive). If you lose or damage your remote control you will not be able to use this device anymore. On the left side you will find its flash reader for memory cards that support CompactFlash I/II, Secure Digital, Memory Stick, MultiMediaCard and Smart Memory.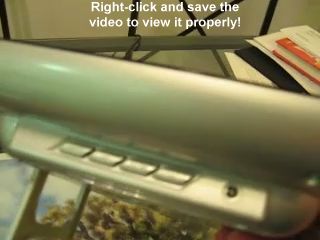 The device successfully read our 32 MB CompactFlash (formatted by XP), our 128 MB SD card (formatted by Kodak), our 512 MB SD card (formatted by Canon A700) and our 4 GB Compact Flash (formatted by Canon 5D). It managed to read without a problem small images and big Jpeg images up to our Canon's 5D 13 MP (and intelligently resize them to fit depending on their 4:3 or 3:4 format). If you resize your images to match the screen's native resolution (800x600), you should be able to fit about 150 pictures on a just 32 MB dirt-cheap memory card!
The DPF-8800 has 2 speakers and supports playing back MPEG1/2/4, Mp3 and AVI DIVX files. This is especially interesting because it means that you can have at home an 8" digital video player (eat your heart out iPod Video)! The music mode even has an equalizer and it allows you to play back music while on a picture slideshow! There is a mute control and volume control. There is also a "file mode" that let's you go through all the files on a memory card. There are preferences for each mode, but this accessible only if no memory card is present (otherwise is disabled). The DPF-8800 is also intelligent enough to ask you which one of the two cards currently inserted in its slots you would like to browse at.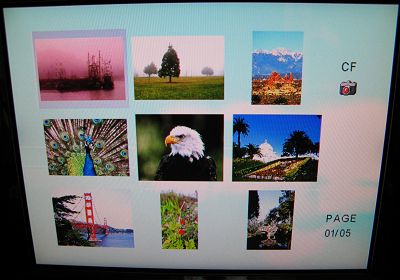 The main usage on the DPF-8800 is image slideshows of course. You can select between 1,2,3,4,5,10 and 15 seconds of frame refresh and you have a choice of about 10 different effects. The defaults, 5 seconds and "cross fade", seem to be the best choices indeed.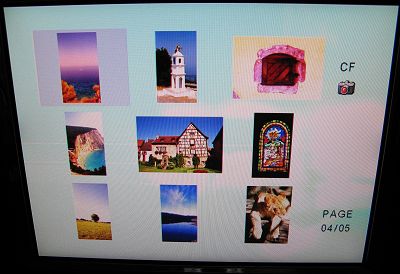 Where its defaults really let us down though is at its LCD default color management. We found that the screen would "burn out" ALL the pictures and videos we tried and it would make them lose all detail wherever some areas in these pictures/videos are either dark or light. This is not a picture problem but an LCD configuration problem and there is no LCD menu control to fix it. Instead, the user has to use Photoshop (or Gimp) and make SVGA copies of his/her favorite pictures by narrowing the histogram values to be between 37 (where 0 is black) and 210 (where 255 is white).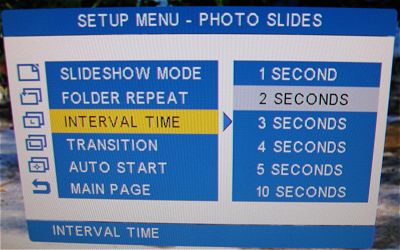 What this means is that the LCD completely drops any color value of any given pixel that it's below 37 or above 210 (in the scale of 0-255). This bad misconfiguration of the LCD at the factory makes all pictures to not display their true colors and so special treatment with a graphics editor is required in order your pictures to look good on this specific screen.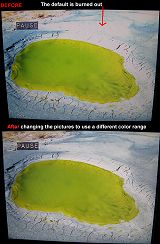 Yes, it's added work that the user must do, but does it worth it? In our opinion, yes. My brother in law was in the US for the better part of August and he made trips to Lassen and Yosemite. He came back with over 70 pictures. We had the device next to our table, and were having lunch right after his come back. He had to do nothing more but place his SD card to the device and turn the device ON. That's it, we were all enjoying the pictures while lunch, on the spot. You know, in the old days people would probably say stories during lunch or dinner. In this day and age, commenting on the places pictured is very convenient.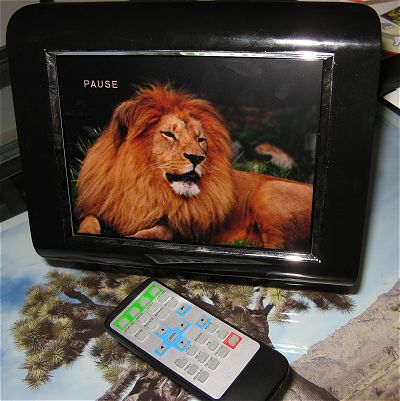 Additionally, wouldn't it be great if you had guests arriving and you would like to show off some of your nicest pictures? You don't have to pass a photo album to all of your guests one by one, and you don't have to turn on a PC or your big TV (it could be perceived as insulting to some guests). Instead, this device's 8" screen is there for those who want to view it, while others can talk... football instead. The device does not overpower your barbeque plans, but instead works its way through in the background!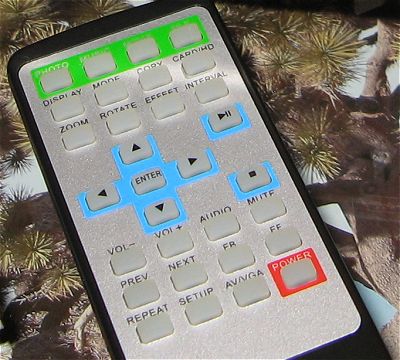 Overall, this is a good product. It could have been even better if the LCD screen was configured better or if the remote control commands were more responsive, but if you just need a device running your best pics on the background of a social event as a slideshow, this is a good and affordable purchase.
Overall Rating: 8/10