REVIEW: ADSTech Instant Video To-Go
The guys over ADSTech sent us over their "Instant To-Go" hardware accelerated h.264 encoder, aka RDX-160. Read more for our impression and some benchmarks.
The RDX-160 is a USB 2.0 dongle that can be easily tacked away when not used, as it has a protective cap, just like USB flash drives. In the box we found a pouch that can be used to carry the item without damaging it, a small printed guide, a USB cable extender and the driver/software CD.
The RDX-160 requires to be placed directly on a USB 2.0 port, we had trouble making it work correctly on a USB 1.1 port. After you plug in the dongle and you insert the driver CD on the drive, the installation goes on as planned. A reboot is recommended after the driver installation. After the reboot, you can continue installing ArcSoft's MediaConverter. There are a few upgrades for the driver and the Arcsoft app, so after installation we recommend you upgrade some .dlls found on ADSTech's support site.

The ArcSoft MediaConverter 2.0.10.51 is a very easy to use application, and it supports the iRiver U10, Creative Zen, Sony PSP, iPod Video and the Sandisk players. It supports many input formats, from WMV to DivX, to VOB, real and mpeg. Any kind of file we threw at it, it was able to read and playback. The application uses FFDshow decoders and QuickTime to decode. The application can also re-encode audio files and images, not just video. The application also works with or without the RDX-160 connected.
Each profile supported (e.g. for the iPod, or the PSP) has sub-profiles for medium, high and low quality. These are editable and you can tweak each sub-profile to suit your needs. Depending how big the target screen is, we usually encode between 256kbps to 320kbps and with 64kbps AAC sound. This is good-enough for devices like the iPod or the Sony PSP.
Originally, we thought that the application can only encode h.264, but this is not true. ArcSoft's MediaConverter was able to also encode DivX/xViD, MotionJPEG and after we installed a suitable encoder, WMV v9 was also supported. And the surprise was that the RDX-160 was used when using these encoders, and so encoding times were significantly smaller than encoding without hardware acceleration. In other words, even if the RDX-160 is marketed as an h.264 encoder, it can encode fast other formats too!
One of our favorite features in the application is the fact that it respects the aspect ratio of a given video and so it creates the letterbox effect when needed instead of stretching the video and make it look ugly. Letterboxing worked well for the iPod/PSP encoder settings, but not for the iRiver/DivX videos. Additionally, ArcSoft's application has the ability to encode in the plain Mpeg4-SP profile, which would make it usable on 128x96, 176x144 and QVGA-supported cellphones. 3GP encoding is also supported in these resolutions!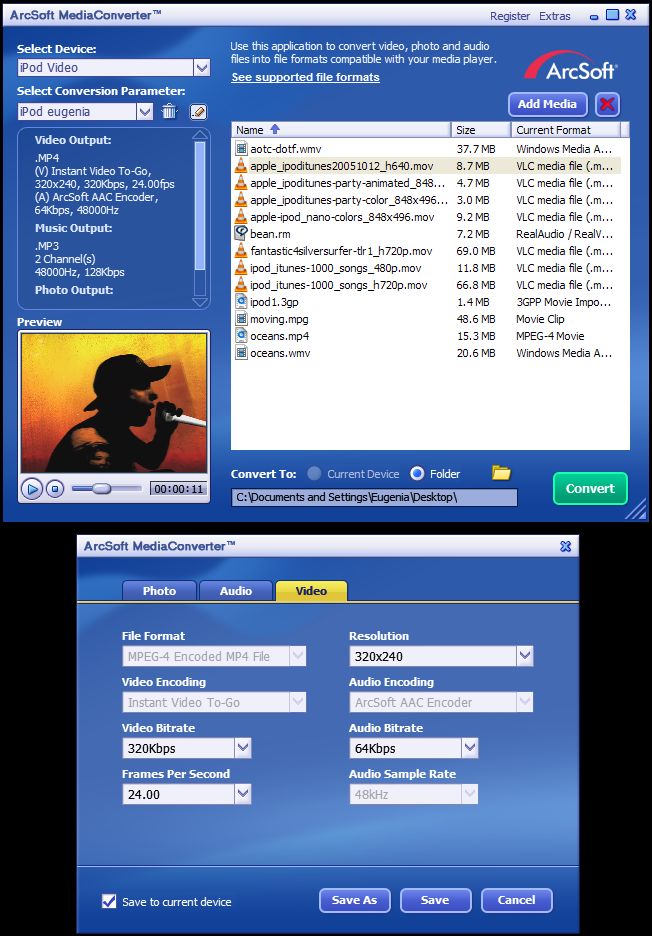 Here are some of our tests (carried out on a recent Pentium4 3.0 Ghz, Windows XP Pro, 1 GB RAM):
Source video:
852x480, 30fps, 30secs, h.264, 128 kbps AAC
Output video:
320x240, h.264, 320 kbps, 64kbps AAC, 24 fps
MediaCoder with x264/ffmpeg, no HW: 55 seconds
QuickTime Pro, no HW: 1.03 seconds
ArcSoft, no HW: 1.38 minutes
ArcSoft with RDX-160 Hardware Acceleration: 14 seconds
When we tried to encode a full TV 480p episode (45 mins) to the iPod/PSP format, the dongle was able to hardware-assist the application and carry out the encoding in 10:40 minutes. Trying to do the same using MediaCoder it took us 36 minutes.
For a full 120min movie (from .VOB), it took ArcSoft's application 29 minutes to encode in h.264 QVGA. This is a very good time, as without hardware assistance we needed well over 2 hours to encode it.
Regarding the resulted visual quality, MediaCoder with the x264/ffmpeg combo produced slightly better quality than either QuickTime Pro and ArcSoft's MediaConverter, but because these videos are targetting devices with small screens, no one will be able to see major differences anyway.
Without RDX-160's hardware acceleration ArcSoft's application is very slow. This leads us to believe that if they actually had a faster encoder to begin with, the RDX-160 would be even faster! Maybe the ADSTech guys would like to apply some pressure to ArcSoft to optimize their encoder, because this small fault in the software side of things has an impact on their hardware product.
There is no Mac OS X application that can take advantage of this hardware, this is a Windows-specific product. Even worse, there is no SDK or hardware specs provided by ADSTech (that we could find) so other video applications can not take advantage of this product. For example, it would be cool if ADSTech provided all the techinical info required so the Linux developers can write drivers for it and then have encoding projects like the popular x264 or OGG projects take advantage of the hardware and provide automatically some hardware acceleration to users who buy this product. If ADSTech actually designed this product and not just OEM'ed it from Asia, then it is on their best interest to open up the specs to assist Mac and Linux driver developers!
Overall, this is a great product if you are find that encoding takes all the CPU time away from your PC on a regular basis. Price is a bit steep at $80, but then again, time is money. And this product saves you enough time that can be... translated to saving money! If you are an avid movie watcher on-the-go, give the RDX-160 a go too!
Rating: 8/10
A second opinion: review.