INTERVIEW: Mike Hodgkinson, director of the "Oceans" video clip
Today we are very glad to host an interview with Mike Hodgkinson, the director of Rob Dickinson's "Oceans" music video clip which was shot using a cellphone, the Nokia N93. View the music video here, while you can also view the "making of" video here. Read on for what Mike had to say about the creation of the video clip.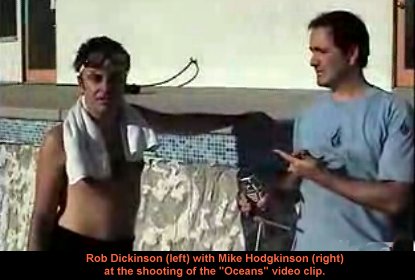 1. Please tell us a bit about yourself and your directing experience.
Mike Hodgkinson: I'm a freelance writer '" some travel features for the Guardian newspaper in the UK, and I also contribute to iTunes, Golf Punk magazine (a funky UK sports title), Los Angeles City Beat (weekly paper), the Times (of London) and the Los Angeles Times. A while back (over ten years ago) I shot a couple of videos on Super-8 celluloid for a great but obscure English band called Kaleida. They were signed to a label based in Madrid (Siesta Records) and they were my friends, so we did it for kicks really. No money changed hands. Apparently one of the tracks (shot in a small seaside town, using the local retired people as extras) ended up on a compilation video in Australia. I saw Rob Dickinson's first ever London gig with Catherine Wheel back in the day (early 90s) and lost touch with him until I heard 'My Name Is Love'? on the radio in LA, where I live, and hooked up with him again.
2. How did the whole idea of shooting a video clip with a cellphone came to be?
Mike Hodgkinson: Rob told me he needed a video for 'Oceans'? and I thought, hell, let's just do it. I won him over through sheer enthusiasm I think. He's a cracking songwriter and I wanted to do the track justice, as well as adding some kind of hook to the project so loads of people would get to see it and get into Rob's debut solo album, "Fresh Wine For The Horses". First, I thought of going down the low-tech Super-8 route again but then I saw on the internet that the Nokia N93 was supposed to have DVD-quality video capture. That was all I needed to know. No one had made a music video on an N93 before and I thought that by being the first, we would have the hook we needed. I had a contact at Nokia because I had written an article in May 05 for the Guardian newspaper about finding my way round Manhattan using advice from blogs, so I had borrowed a web-enabled Nokia 6682 phone for that. Nokia sent over a couple of N93s and we headed off the Palm Springs to shoot 'Oceans'?. We funded the project ourselves '" only a couple of hundred bucks all in.
3. Were there any technical difficulties while shooting with a cellphone?
Mike Hodgkinson: No it was really easy - just point and shoot, basically. I thought that if the shots were well composed, they'd hold up well. Once I'd seen how well the N93 could capture video, I was confident it would do us proud and the results exceeded our expectations. We really tried to push the N93 to its limits, and took advantage of its (small) size '" so we filmed underwater in an inverted plastic food tub, and got aerial shots by tying the N93 to helium party balloons from a local florist. I also adapted some clamps (using duct tape) so I could clip the phone to a regular camera stand. It was like being Hannibal & Co. from the A-team, where they had to make something (like a tank or an aeroplane) out of everyday household objects. We tried to be as ingenious as we could.
4. You did not use any artificial light during the shootings. How did you compensate?
Mike Hodgkinson: I didn't need to compensate. The light in Palm Springs is as helpful as anywhere in the world, and clouds are rare. It's the desert, basically. For the close-up indoor footage (where our actor, Liz, is holding a drink) I just used the in-built light on the phone. The salt crystals on the rim of her margarita reflected the light back in way I liked. All the outdoor footage came out really well '" the colors were vivid and surprisingly cinematic '" and I chose to emphasize the colors that stood out the strongest: the blue of the sky, the orange of Rob's car, the green of the grass etc.
5. What software did you use to edit the shot video? What effects and tricks you had to use in order to make the video more broadcast-quality?
Mike Hodgkinson: The mpeg-4 files were imported into Final Cut and the editing process was pretty straightforward. When it came time to export the finished video we had to experiment with various Codecs to make sure it didn't crack up. The H.264 Codec Quicktime conversion '" set at 240x180, worked the best. The prettiest version was around 70MB. 'Oceans'? plays really well in an iPod, but at the premiere event we hooked it up to a big plasma screen and it stood up to the dimensions much better than we expected. Amazing, really.
6. Are you ready to do the same experiment with a digital camera or a consumer camcorder?
Mike Hodgkinson: Sure. I love the fact that all this technology is pretty much at everyone's fingertips. Francis Coppola got it right when he predicted the camcorder revolution back in the 70s '" he knew that video gadgetry would bring out the best in amateur film-makers, and help free people's imagination. The N93 represents a new kind of video punk movement: the basics are so easy to master, we've just got to add the creativity.
Editor's note: Please await an interview with Rob Dickinson in the next few days too.